Posted: December 19, 2011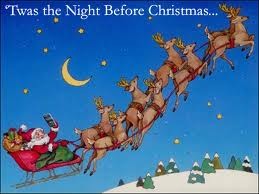 The Year There Almost Wasn't Christmas
T'was the night before Christmas
But Santa could not be found.
There were no jingle bells or reindeer sound.
There were to be no toys under trees, for Santa was sick,
There would be no holiday blessings from the once jolly St. Nick.
The children were saddened and no laughter sounded,
Christmas was here but Santa was grounded.
As the elves wandered helplessly what did they see?
A great big sign with the letters Falite, D.C.
Now they knew Santa was not one to try a new tactic,
But since medicine had failed they talked him into trying Chiropractic.
Santa entered the office with a smile and a nod,
There was no mistaking this place was of God.
The children were playing and as far as he could tell,
Everyone left there smiling and well.
In no time at all, just a few tics of the clock,
He was in the exam room talking to the doc.
"It must be my age, the stress, and all of the travel,
I'm feeling my health starting to unravel.
It used to be easy carrying dolls and trains to girls and lads,
Now they want computers, Wii games, and iPads.
If you looked in my sleigh at the size of my pack,
I'm sure you would tell me it ruins my back."
The loving Chiropractor checked Santa's spine,
And found he was out of balance and had several bones out of line.
Santa committed to being adjusted for the duration,
The moment he learned he had life-threatening Subluxation.
He got on the table and then lickity-split,
The Doc started adjusting the ailing St. Nick.
When Santa was finished, his imbalance was gone,
The Chiropractor told him "Your Power Is On!"
Once again Santa flowed with love and good cheer,
Now that his spine and nerve system were clear.
He shouldered his bag and jumped into his sleigh,
Thinking it had been centuries since he felt this way.
Then he shouted, "I'll bring in Mrs. Kringle and the elves to get checked before the first of the year,
MERRY CHRISTMAS TO ALL AND TO ALL A GOOD YEAR!"
**************
Remember this at Christmas time:
According to the Alaska Department of Fish and Game, both male and female reindeer grow antlers in the summer each year. Males drop their antlers at the beginning of winter, usually late November to December. Females retain their antlers till after they give birth in the spring. Therefore, according to EVERY historical rendition depicting Santa's reindeer, EVERY single one of them, from Rudolf to Blitzen, had to be a girl. We should've known...only women would be able to drag a fat man in a red velvet suit all around the world in one night and not get lost!
We Love & Appreciate You!